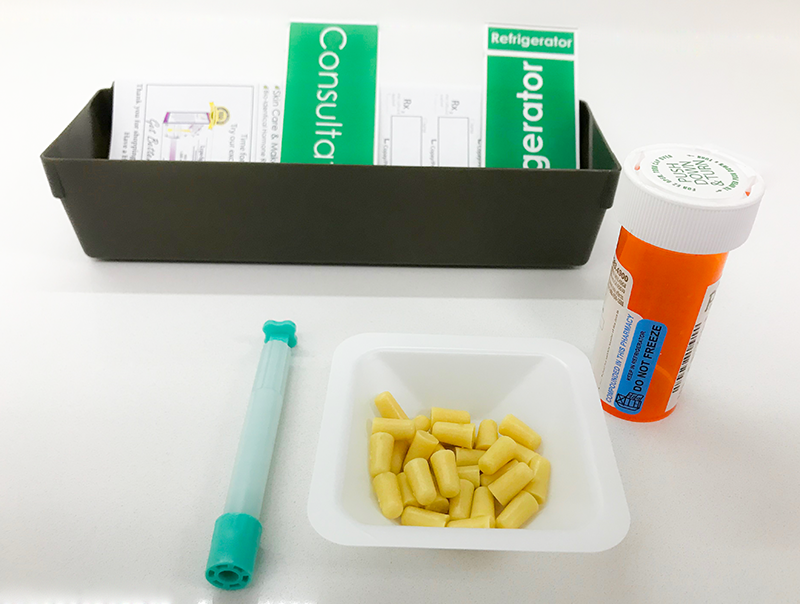 Did anybody question the materials leaching out of disposable molds? Did anyone question if they were free of BPA, phthalates, or other contaminants? You could almost guarantee that many patients and providers will object to using such molds. After all, they are concerned about their water bottles, and water bottles never get that high in temperature, or contact their medication.
Protect your patients and improve your compounding with Pebble Beach Compounding Molds. The FDA-grade, thermoplastic elastomer used to construct Pebble Beach Molds is designed to withstand temperatures up to 250 degrees Fahrenheit. This material is commonly used to manufacture catheters, and medical devices used in the surgical industry.
Be a compounding hero for all of your patients and local providers that trust you as a problem solver and leader. Increase patient adherence by providing a smaller,gentle, and smooth, mini-Suppositories with Pebble Beach Molds! Pebble Beach Molds can also be used to make mini-Suppositories with just about every major base out there! PB mini-suppositories measure a total volume of a half-milliliter. The smaller size and gentle shape are different than conventional suppositories, thus making it comfortable and easier to insert vaginally.
Need a formula? or two, or three to get you started? No problem. We have those too, and they are complimentary with your purchase. Not ready? Follow the link below for a complimentary Nystatin 100,000-iu sample.
For patients inserting one or more suppositories, we provide Gentle Dose vaginal applicator. The barrel is designed in size and material for ultimate patient comfort. Gentle Dose is the first petite applicator, and fits up to four Pebble Beach mini-suppositories. As an applicator with a wide spectrum of uses for multi-dose, single-dose, creams or suppositories, Gentle Dose was developed with your patients in mind.
Gentle Dose and Pebble Beach are exclusively available for compounding pharmacies through BIOSRX. At BIOSRX we develop compounding technologies that simplify dosing and improve lab productivity. We empower compounding pharmacists with integrated dispensing systems that improve patient adherence and pharmacy profitability.
With Best Regards,
The BIOSRX Team!
(800) 280-9277