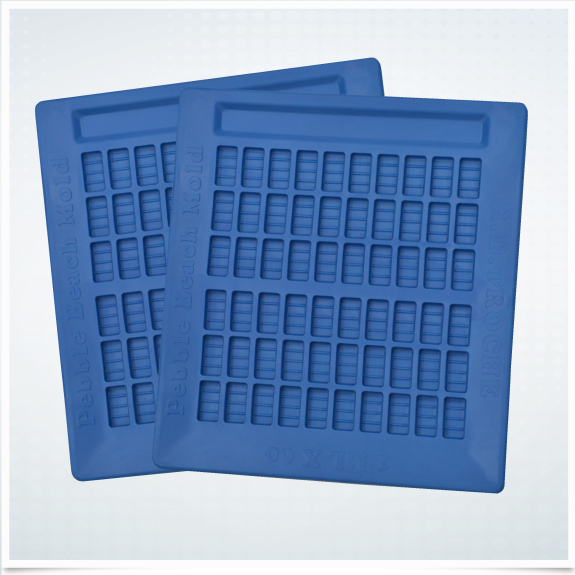 Your pharmacy is used to making troches. Maybe you even already use reusable molds, and you don't receive patients complaints.
You've seen the R.D. Troche Molds, but you're not quite convinced your pharmacy is ready to start using them. To help clarify some points, here are the major points we've heard from our pharmacists and though of when we designed the molds.
1. It's easy to fill each cavity
Does your compounding team ever bargain or debate with each other about who has to fill the harder prescriptions? It's not ideal. Neither is having to fill every cavity in your mold, one at a time. What if you had to individually fill each capsule? Would you continue using that capsule machine? If I had to guess, the answer is no.
Whether you're making 30 troches of an uncommon strength of biest, or whether you're making 300 troches of progesterone 100mg, or 1,000 troches of tadalafil 9mg (like some of our pharmacists), making troches will be almost effortless. The molds are heat resistant up to 250 degrees Fahrenheit, so you can heat your base to the ideal temperature to work with. By giving you greater temperature flexibility, spreading the base will be easier, and will result in more identical and aesthetically pleasing troches.
In fact, this step was the biggest consideration when designing the R.D. Troche molds. Most molds require a lot of training, and slow down the pharmacy's workflow. Our molds were created from a compounder's perspective, so they don't require measuring doses with a syringe, creating a mess, or a whole lot of time.
2. The troches are easy to remove
If you're using reusable molds, you'll know that it takes some skill to remove troches from their molds. If you buy single-use molds, then your patients have to learn how to remove troches from their molds at home. Depending on the patients' skill levels, that could be an additional problem to address.
Instead of spraying your molds with cooking oil, you can use a smooth thermoplastic elastomer. The flexible material allows for an easy release of the troches; when I've used the molds, 80% of them fall out just by flipping the mold over. Twisting the mold releases the rest. See for yourself how easy it is by watching our videos. Why take more than 15 seconds to remove 100 troches from their mold?
3. You'll save on packaging
You're right, single-use molds have a low list price, and the troches are dispensed directly in the mold! But, you pay that single-use price every time you make troches. How many troches do you make? How much are you paying every time you make troches? You're paying whenever your doctors prescribe troches, in addition to the extra labor costs of using most molds.
If you're dispensing troches to a long-term care facility, R.D. Troches are easily packaged in blister-packs. Most pharmacies, though, simply package R.D. Troches in standard prescription vials. You already use them for other prescriptions because they're cost-effective, and are child-resistant, so why not for your troches? Most single-use troche molds can be easily opened by small-children (this is especially tricky for troches, due to the common practice of adding color and flavor, which can make troches look like hard candies). Reduce your pharmacy's liability by increasing safety!
Bonus: reducing single-use plastic is great for marketing to integrative doctors, and for the planet!
4. Easy to clean
Cross-contamination is no joke (unless you think of a good one, then email me). Compounding procedures need to be established with every new piece of equipment: how to use, clean, and store. While we can't tell you how to use the molds (besides providing formulas, formula conversion support, marketing materials, phone and email support from compounding pharmacists, making tutorial videos, etc), we will provide a cleaning method that has been tested to result in 0% cross contamination.
Because the FDA-approved thermoplastic elastomer can handle high temperatures, you can start the cleaning process by pouring boiling water on the mold to remove any excess material. R.D. Troches are also dishwasher safe- but keep them on the top rack, please! If you do manage to melt or damage the molds, you can utilize your one year full warranty for a free replacement of your mold.
5. Faster absorption
Troche absorption time varies across bases, but also across troche size. The larger the troche, the more base is used, and the longer it takes to absorb. Troches can be a very convenient dosage form, but not if the troche take half an hour or more to be absorbed. If the medication has an unpleasant taste, or even if the doctor doesn't want their patient to absorb unnecessary base, you'll probably want a smaller alternative. When I've tried the 0.5 mL R.D. Troches, they absorbed in less than fifteen minutes.
You'll also find that compounding with less base means you're paying for less base. While the savings are incremental, as you compound more troches because it's suddenly easier, faster, and cost effective, you'll be saving more and more.
There's a lot to consider when you're compounding. That's why all of BIOSRX technologies are designed with the pharmacist in mind. When you adopt a new piece of equipment in your pharmacy, you also have to adopt new compounding formulas and methodology. When you own R.D. Troche Molds, you have our whole team working for you. Our formulas and formula conversion will make the process easier than counting 30 troches.
If you want to learn more about our support options, check out our pricing levels. If you give us a call, we can work through which level your pharmacy needs.